RF STYLE 4-1 B SERIES RACE HEADER
Description:
REDESIGNED FOR BETTER PERFORMANCE AND DURABILITY. 100% COMPLETE WITH 4 WAY ADJUSTABLE TEST PIPE AND ALL HARDWARE FOR HASSLE FREE INSTALL.
If you are reading this auction then you already know this is the most powerful header in the market today for B series. It will outperform any header in the same price range. DYNO & RACE PROVEN. POWER GAINS 5-15 WHEEL HORSEPOWER.
(4-1 Design) 4 tube merge into a 2" collector flange and the second piece expend the 2" collector to a 2.5 flange this is how the RMF style header is designed and this is why it makes the power and torque. This header is designed for mild build 1.6-1.8L engines build include intake exhaust stage 1 cams, mild head work, ls/vtec. 11:1 compression and below.
Feature:
304 Stainless Steel in 18 gauge thickness
High Flow 2.5" merge collector with
4 to 1 tubing design
2-piece design for easy installation
Excellent Ground Clearance
It will fit with Air Conditioning and Power Steering
10+ wheel horsepower on a stock GSR with no electronic tuning
For ease of installation, we include FREE 4 WAY ADJUSTABLE TEST PIPE (DESIGN TO FIT MOST IF NOT ALL EXHAUST SET UP YOU CAN EXTEND OR SHORTEN THE LENGTH TO FIT YOUR SET UP OR YOU CAN MODIFY OR WELD IT TO ANY 2.5 INCH EXHAUST)
FREE HEADER GASKET AND DONUT GASKET NUTS AND WASHER.
FREE ECONOMY SHIPPING TO THE LOWER 48 STATES. GUAM, HAWAII, ALASKA, AND PR REQUIRE ADDITIONAL $45.00 SHIPPING FEE.

Fits:CARS BELOW WITH B SERIES SWAP.
1992-2000 Civic
1993-1997 honda del sol
1994-2001 Acura Integra
1988-1991 Honda CRX
1990-1993 Acura Integra with any B Series engine swapped into it.
****If you have an EF or a DA, you must trim the front cross member for clearance OR use aftermarket traction bars.
**** For obd2 cars 96+vehicle you will need an o2 sensor extended because the secondary cat has been removed. you can buy that in my other auction.
**** AS WITH ANY 3 OR 4 PIECE SLIP ON TEST PIPE THERE IS GOING TO BE SOME SMALL EXHAUST LEAK BECAUSE IT'S DESIGN FOR MANY DIFFERENT TYPES OF HONDA AND ACURA EXHAUST SYSTEMS. BECAUSE OF THE UNIVERSAL DESIGN IT'S NOT GOING TO HAVE A 100% SEAL. IT IS RECOMMENDED AFTER THE HEADER IS INSTALLED TO YOUR SPECIFIC VEHICLE BRING THE VEHICLE TO ANY MUFFLER SHOP AND GET IT WELDED.
**** HEADER IS INTENDED TO BE OFF ROAD USE ONLY NOT CARB LEGAL IN CALIFORNIA.
PICTURES BELOW ARE THE ACTUAL HEADER YOU WILL RECEIVE WE ONLY HAVE LIMITED QUANTITY ON HAND




HERE'S THE ACTUAL HEADER INSTALLED ON OUR TEST VEHICLE.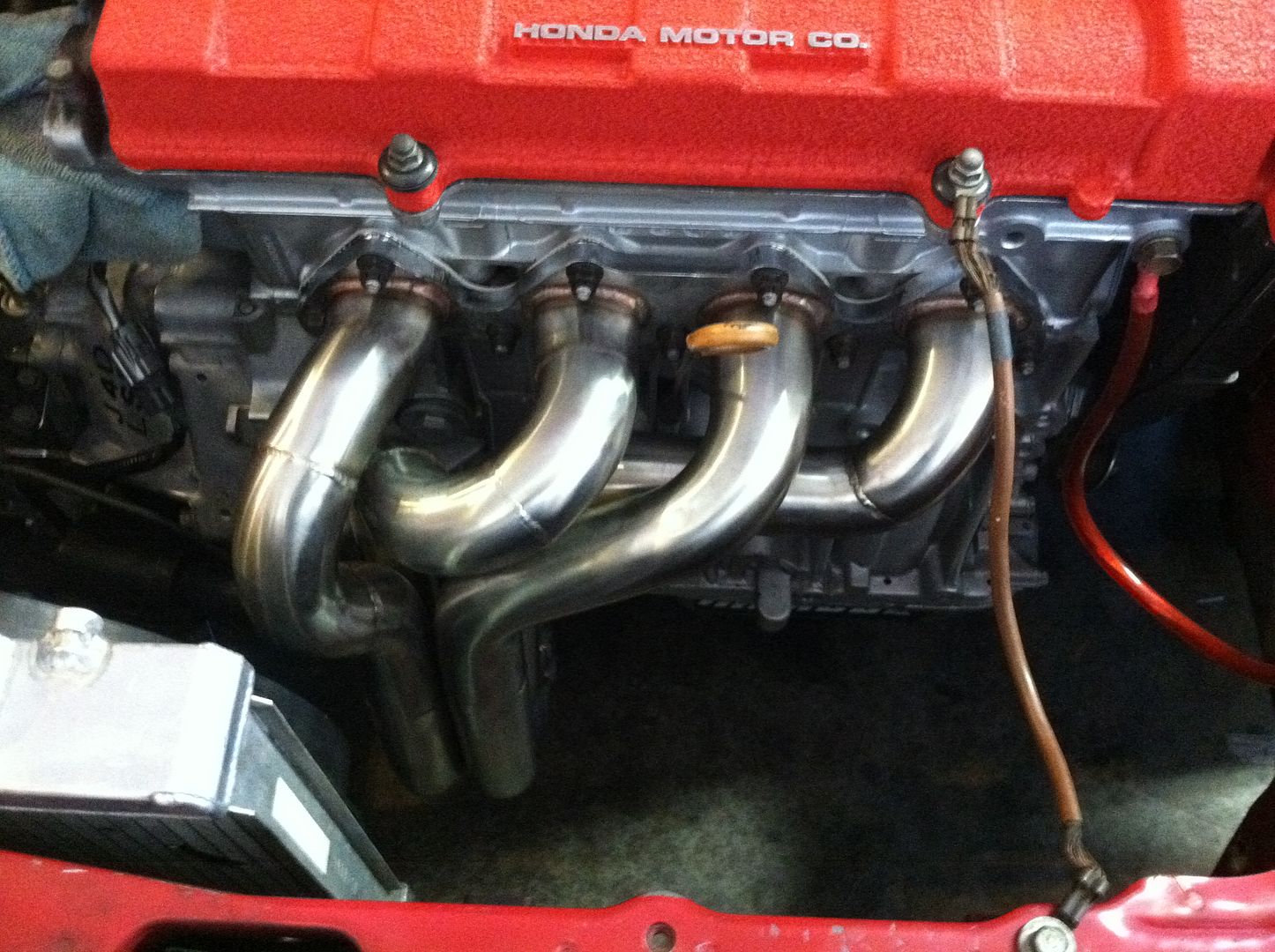 AFTER WARM UP FOR ABOUT 15 MINUTES THE HEADER TURN TO A NICE GOLD COLOR (BEFORE START THE CAR THE FIRST TIME CLEAN THE HEADER WITH ALCOHOL WIPES TO GET THE GREASE OFF THE HEADER SO WHEN IT HEAT UP IT WILL NOT SHOW THE GREASY FINGER PRINT ON THE HEADER SO YOU GET THE SHOW QUALITY SHINE)







AFTER ABOUT 1500 STREET MILES 20 OR SO 1/4 RUNS AND 4 TRACK DAYS THE HEADER HAVE A NICE NEO CHROME TITANIUM LOOK TO IT REALLY COOL!!! TRACK TESTED!!! WE TEST WHAT WE SELL!










Payment Terms:
Payments must be made within 72 hours.
We accept confirmed Paypal payments Only
We will ship the item once payment clears.

Shipping Terms:
35% restocking fee on all returns to cover original shipping fee and ebay fee . item must be brand new to be acceptable for return. used items or item has been try on can not be returned.
Items usually ship within 1 Business day after payment is received.
FREE SHIPPING TO LOWER 48 STATES HAWAII GUAM ALASKA AND PR REQUIRE ADDITIONAL $15.00 SHIPPING FEE.
1320 Performance RF 4-1 Style header w/ test pipe